Behaviour
Different crocodilian behaviours have been categorised on the basis of their primary function - maintenance, social interactions and reproduction.
Maintenance behaviours include daily activities associated with thermoregulation and osmoregulation (movements between water and land, sun and shade), predator avoidance and feeding.
Social behaviours involve communication between individuals of the same species, which is achieved using visual, tactile, vocal and chemical signals.
Reproductive behaviours are those associated with courtship, mating, nesting and post-hatching care.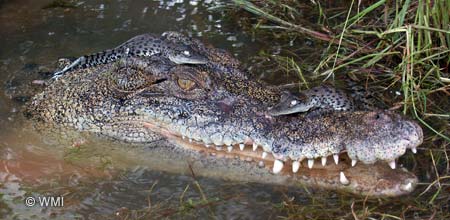 Mother crocodile cares and protects babies.
Sources:
G. Webb and C. Manolis (1989): "Crocodiles of Australia" (Reed Books: Sydney);
K. Richardson, G. Webb and C. Manolis (2000): "Crocodiles: Inside and Out" (Surrey Beatty and Sons: Sydney).